Trick
The leader of the group,  the most athletic, loves to play tricks, has a severe case of Arachnophobia.  Was a quite a music writer in a previous life – until he started to de-compose.
Or
Always caught in the middle between "Trick",   "Treat".   Avid photographer, and loves taking Skelfies.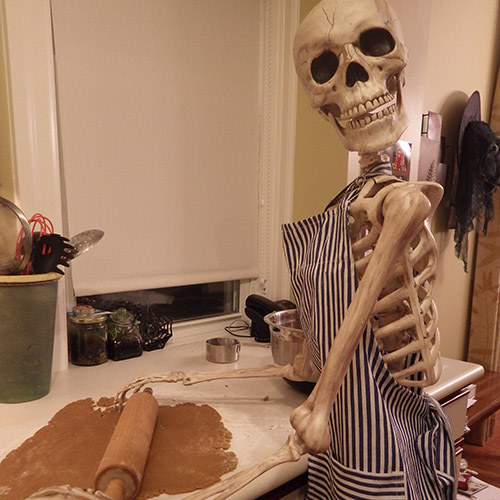 Treat
Die-hard romantic,  crafty,  loves to bake Halloween treats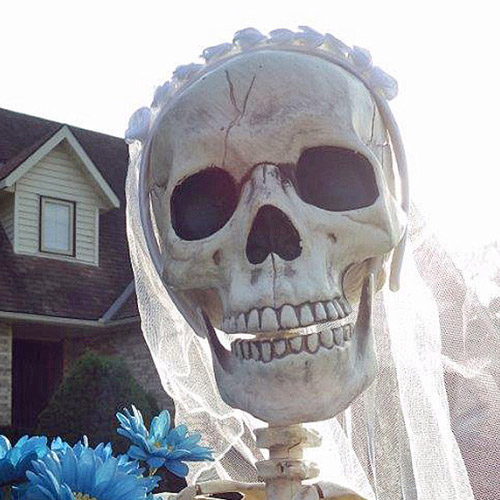 Skin-Ann
New addition 2016.  Brazilian beach volleyball player, (the girl from Ipanema).   Met the Skeletons during the Rio Olympics, best friends with Bones & married to Trick – 2016
Bones
A former world champion "Skeleton" racer.   Broke his arm when he slipped on flour that "Treat" spilt on the kitchen floor  while baking skeleton cookies (2015).  Despite numerous surgeries by Dr. Quin, his arm is non -repairable.  He is afraid of water & will always be seen sporting a life jacket, for any aquatic antics.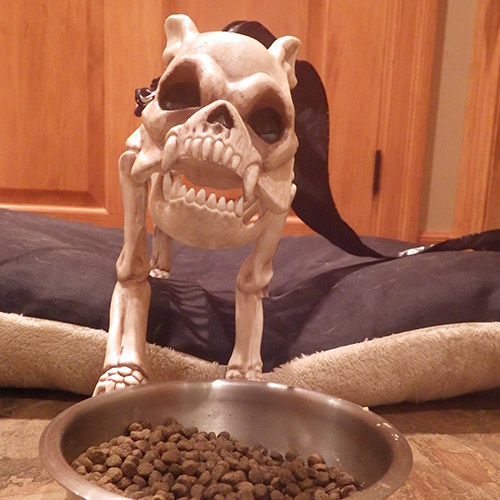 Grimm
Smallest dog, part of the original cast.
Reaper
The larger dog added in 2016 to keep Grimm company.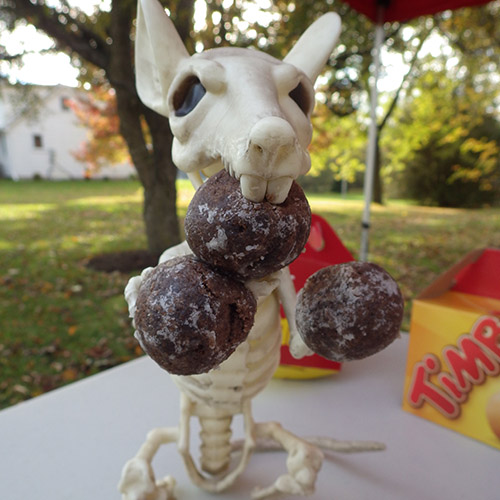 Pumpkin the Rat
Mysteriously appeared in 2015.  Despite his svelte figure, Pumpkin has a voracious appetite and is addicted to Cheese Doritos.  You will typically see him eating in most of the antics.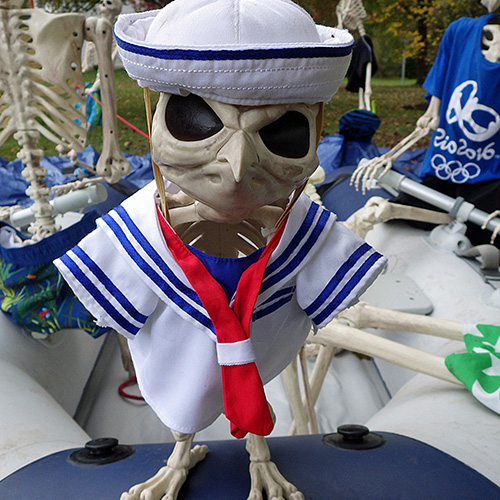 Scowly
2016 – Keeps a watchful eye over the skeletons.  Despite the rib-tickling antics, the owl never smiles hence the name "Scowly".
Spidey
Crawled on to the scene in 2016. Loves to drop down on different antics.