WE DID IT!   24 days of skeleton antics – our longest run to date!
Bringing the grand total to 80 displays over the past 4 years with NO REPEATS.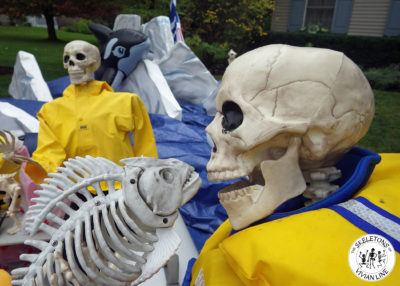 It took a community effort to bring the skeletons to life this year.
Thank you to all the skeleton fans: who shared the love on social media, and for your wonderful comments through email, Facebook, Instagram and homemade cards that kept our bones going!
Skeletons fans from 28 countries around the world have connected with us through our website.
Fans who submitted ideas and props.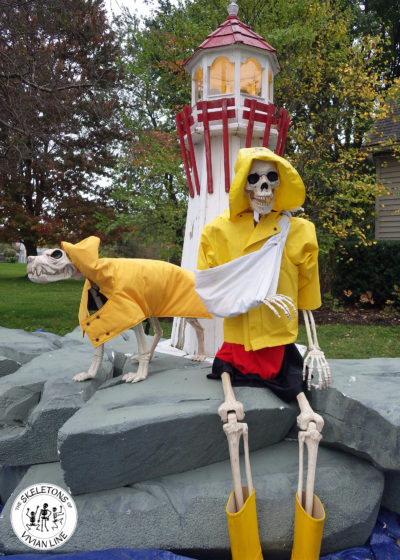 I knocked on a lot of strangers doors for props.  Thank you for always saying yes!
To friends and neighbours who assisted when I called "Help, I'm having a skeleton emergency!"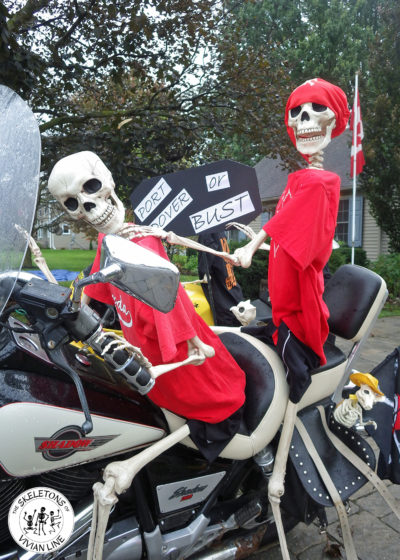 Justin, Quin, Jim, Maddie and Bob, and my wonderful neighbours for their help and patience.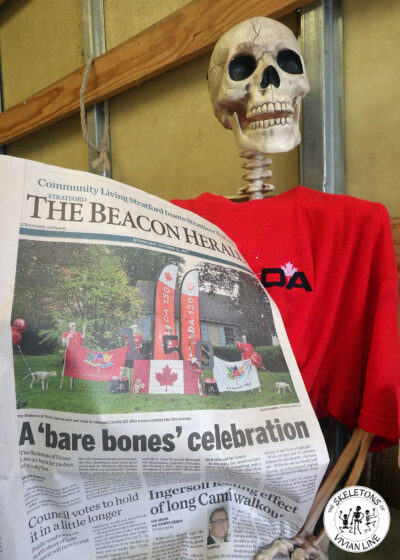 Scott Miller CTV News, Brittlestar and the Beacon Herald… Thank you for the media exposure!
A very special Skeleton High Five to the following:
Linda Mae Ogilvie of Trillium Art for many long hours and late nights spent editing photos, posting and keeping up with social media.  I couldn't have done it without you!
Chris Steingart of QT  Web Design for our new website & logo.
Eric and Bevin for their amazing props.  I can't thank you enough.
Thank you ! Thank you! Thank you!
The Skeletons of Vivian Line couldn't have accomplished 80 displays without all of you!  We are very grateful.
We are so happy that you SMILED, LAUGHED with us, and ENJOYED the antics.
Until Next Year…
Cheers,
Melissa;
Trick, Or, Treat,
Skin-Ann, Bones
Grim, Reaper, Spidey, Scowly and Pumpkin
Leave a Reply